Access resources and strategies for promoting your plant-based menu items.
Increasing your operation's offering of plant-based menu items makes good business sense –it leads to more inclusive menus (more people can enjoy a plant-based dish than a vegetarian or meat-based dish) and can complement corporate social responsibility goals by reflecting a commitment to protecting animal welfare, the planet and public health.
Examine your current menu
Start by examining your current menu –are there any options that can easily be modified to make the dish(es) fully plant-based (containing no animal products).
Think about your audience and what they like eating, and if they would be interested in eating more innovative menu items or would prefer simplicity and familiarity such as veggie burgers or pasta instead of animal-based.
Global cuisines
Global cuisines from around the world, including but not limited to Indian, Chinese, Mexican, Middle Eastern and Italian feature flavour-packed plant-based dishes. Incorporating different food traditions into menus helps ensure diversity and variety is reflected in menus.
Concepts for incorporating plant-based
Consider different concepts for incorporating plant-based: E.g. "The Bowl" –a grain, legume, vegetables and a flavourful sauce. This can be a basic set-up for making a filling and delicious dish, and the options are endless as you can mix and match ingredients.(e.g. Thai soba noodle bowl with peanut sauce, Mexican sweet potato bowl with a cashew lime cream, Crispy chickpea bowl with lemon tahini dressing, sushi bowl, falafel bowl, etc.)
Make plant-based the default
Make the default option plant-based whenever possible in order to make it easier for people to choose plant-based meals, as opposed to the opposite where they need to know how to modify options to make them plant-based. E.g. A burrito that is plant-based where customers need to verbally ask to add on animal-based proteins.
Examine where subtle substitutions can be made: E.g. Making plant-based cheese, bread, desserts, and mayonnaise the default.
Similarly, make "grab-and-go" options plant-based –this helps to make the plant-based choice the convenient choice, and also showcases what a complete plant-based dish can look like.
Cooking techniques
Explore how cooking techniques that are often applied to meat-based dishes can be utilized in making a plant-based dish. For example, marinating, searing, grilling, BBQ and smoking.
Explore the wide range of plant-based cooking techniques such as using aquafaba (water from chickpeas) to make mayonnaise, frying or baking tofu in a tasty marinade, and more.
Receive free personalized support
Get in touch with the PlantUniversity team if you have any questions or want to learn more about how to cook plant-based foods.
Use this poster to let others know why you are making the shift to more plant-based options. Contact us if you want any aspect edited.
Consider placement
Consider placement of plant-based foods. Make plant-based options easier to choose by placing them front and center instead of hiding them in a corner where customers have to go out of their way to access.
Place plant-based options at the front of the line if you are a cafeteria
Integrate plant-based options on the main menu instead of having a separate menu
Feature or highlight plant-based dishes. See our menu posters below!
Promotion and incentives
Offer a promotion or incentive on plant-based menu items where possible. For example, a slight discount, a punch card for a free item, draw for a free gift card, etc.
Free samples
Everyone loves free food! Consider offering a sampling of new plant-based items. This is a great way to gain client or customer feedback and help promote new items.
Contact the PlantUniversity team if you would like assistance in providing samples.
Naming dishes
Names and description of dishes are important. Research suggests not labeling dishes as "meat-free" or "vegetarian" or "vegan", because it suggests those dishes are only for those who identify as veg or vegan. Instead, consider using a symbol (like a leaf) to indicate a dish is suitable for vegans and include the allergen information (dairy-free, egg-free, etc.)
Highlight the origin of a dish: Think Chicago-style pizza or Texas BBQ. Leveraging a food's origin can help create positive associations with the food. In this case, origin can also mean the environment in which the food is grown. For example, instead of "Low Fat Vegetarian Black Bean Soup" choose "Cuban Black Bean Soup", or instead of "Meat-Free Breakfast" choose "Field Grown Breakfast".
Flavour-based naming: Highlight what a dish will taste like to increase the sensory appeal of plant-based dishes. E.g. "Smoky Soul Chili", "Fiery Jerk Jackfruit".
Use positive and indulgent descriptors: Studies show that positive terms and narratives like "fresh", "seasonal", "farm to table", "slow-roasted" are better received than language like "reduced calorie", "lighter choice".
Use indulgent terms like "creamy", "warming", "crunchy", "smooth" and "sticky".
Staff support
Make plant-based foods a part of your institution's animal welfare/sustainability/health goals and share this with staff to help reinforce the social benefits of your effort to offer more plant-based foods. Helping staff understand the "why" will help to create more internal support. (Contact us if you'd like a staff presentation!)
Use this poster on screens to let others know why you are making the shift to more plant-based options. Contact us if you want any aspect edited.

Plant-based menu specials
Update this daily, weekly or monthly to let others know about your plant-based specials. Consider laminating it! Contact us if you want any aspect edited.
What's next?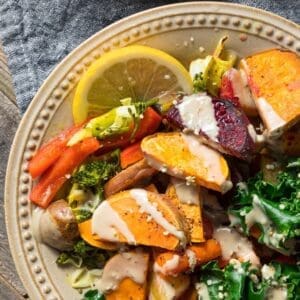 Check out our blog for more tips on plant-based living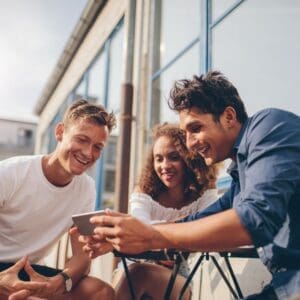 Watch educational videos on plant-based topics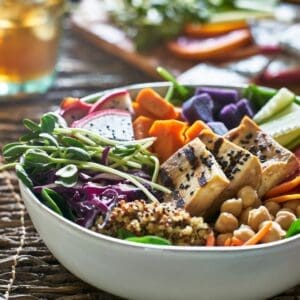 Visit our recipe library for meal inspiration