First steps to tofu mastery
Featured author: Emma Levez Larocque, Plant-Based RHN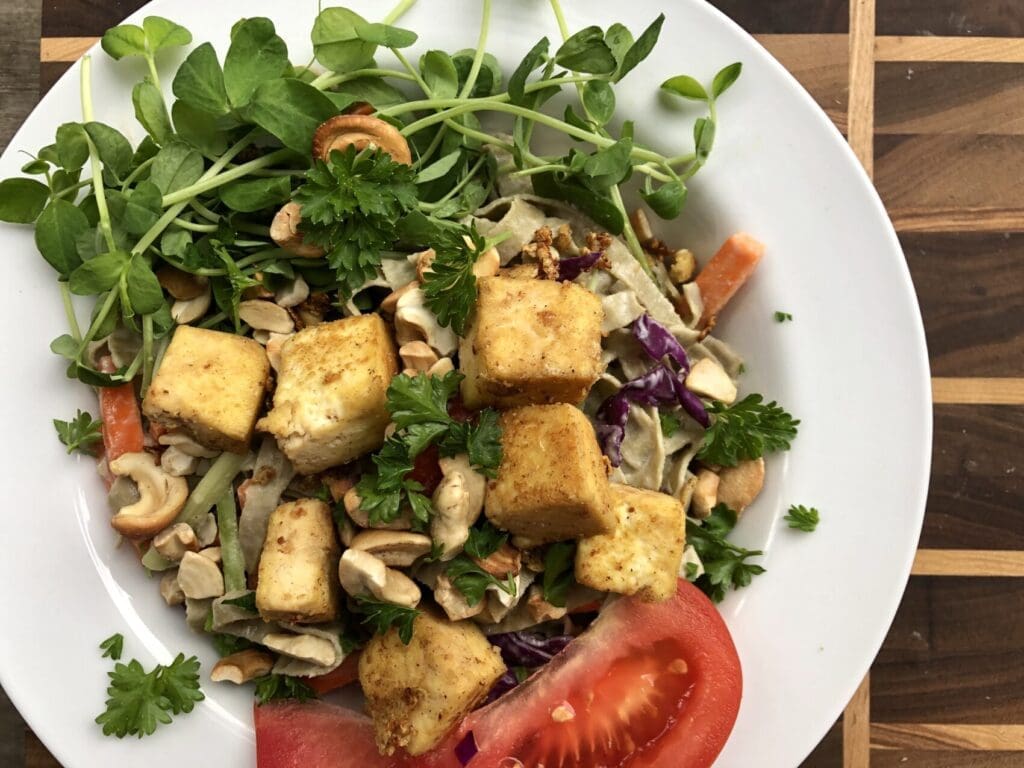 Tofu was invented more than 2,000 years ago and has been eaten in many Asian cuisines for centuries! As this ingredient has become more popular around the world, chefs and cooks everywhere have been experimenting with tofu in the kitchen. We now know that tofu can be versatile—and incredibly tasty—if you just spend a little time learning how to cook it well.
There are a few things that people who are new to using tofu should be aware of to ensure a good experience.
Keep reading to learn about the different types of tofu and tips and recipes for cooking it. For more tips check out the PlantUniversity platform and subscribe to receive free weekly recipes.
3 things to know to set yourself up for tofu success
1) There are different kinds of tofu, and the kind you use matters
2) How you prepare and cook tofu affects the texture, and good texture makes it easy to love tofu
3) Tofu doesn't have a lot of flavour, but it will take on the flavours you add to it (which makes it the perfect "blank canvas" and adaptable to many dishes)
Let's dig into the details.
Types of tofu
The two main types of tofu are regular and silken (Japanese-style). Both types come in soft, medium, firm and extra-firm consistencies. Part of learning to use tofu is trying different kinds to see what textures you prefer. Below is a description of the different kinds of tofu and what they are typically used for.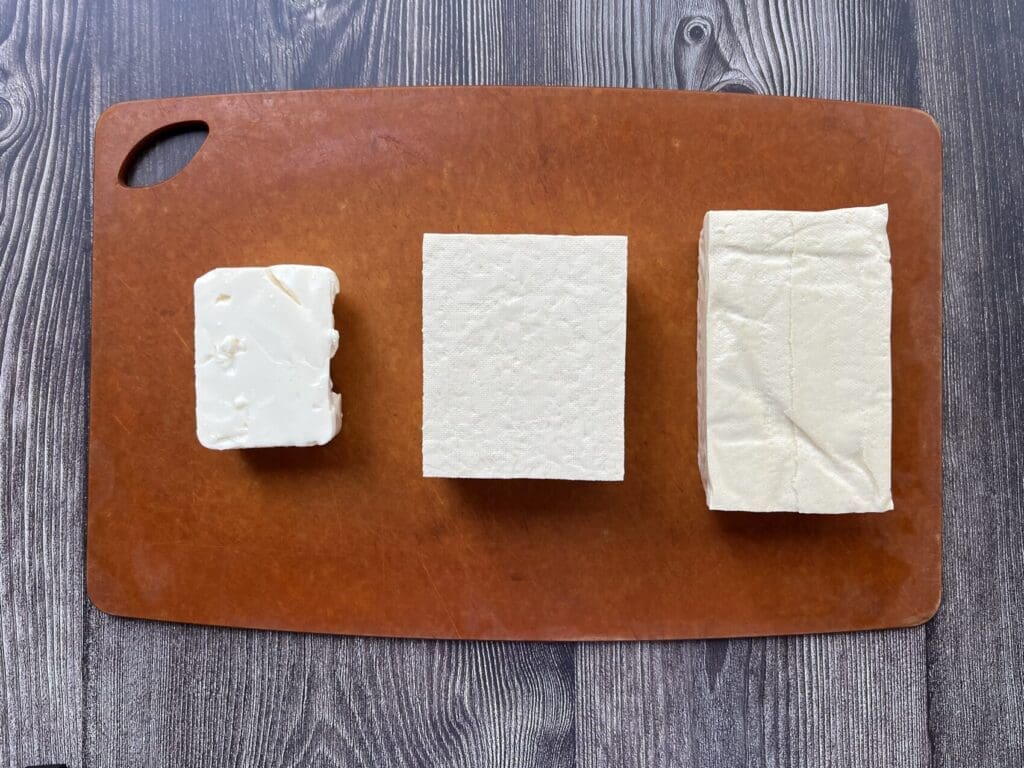 1) Regular tofu
Regular tofu is what you will most commonly find in grocery stores. It is made from the milk of cooked soybeans that have gone through a process of boiling, curdling, coagulating and pressing. The longer tofu is pressed, the more water is released, and the firmer it becomes, resulting in different consistencies: soft (or dessert), medium, firm and extra firm.
Soft regular tofu can be used as a base for dressings or sauces, but for an extra creamy/silky texture silken tofu is preferable.
Medium regular tofu can be used blended in dishes like vegan quiches, or some people like its softer texture for stir fry cubes, or breaded and air-fried "chick'n" nuggets.
Firm and extra firm regular tofu are similar, and best used when you want a firm texture. They are great cut into cubes or slabs, and marinated or glazed and baked, fried, air fried, grilled or roasted. They lend themselves perfectly to dishes like stir frys, scrambles, skewers, grilled sandwich strips and more.
TIP: You can press more water out of firm/extra firm tofu by placing your block between two pieces of paper towel and placing something heavy on top of it for 20 minutes or so. This will give it an even firmer texture, and helps the tofu to suck up marinades more readily.
TIP: Freezing and thawing tofu is another fun way to play with the texture. Once frozen and thawed, tofu becomes crumbly and chewy. It is more porous, making it easier to squeeze out extra liquid. It is great added to curries or chilis for extra texture.
2) Silken tofu
Silken tofu is the other main type of tofu. It is soft, creamy, and quite delicate. The process of making silken tofu eliminates the curdling stage, which creates its silky texture. The consistency of silken tofu becomes somewhat more solid as you move from soft to extra firm, but this type of tofu is always soft and silky (hence the name), and it should be used when you want a creamy result.
Soft or medium silken tofu works well in things like smoothies, sauces or dressings. This type of tofu provides a perfect base and will take on the flavour of the ingredients you blend it with.
Firm or extra firm silken tofu are still very creamy, but they hold their shape better than their softer relatives. These are the types of tofu you can use for puddings or mousses, or that you can cut into cubes and use in a miso soup.
AVOID THIS PITFALL: Don't confuse extra firm regular tofu with extra firm silken tofu as their consistencies are very different.
Adding flavour to tofu
As mentioned above, tofu doesn't have a lot of flavour on its own. Some people love the subtle taste of plain tofu, and it works well added on its own to dishes like miso soup or a curry/chili. However, most of the time when you are using tofu as a base, or a featured part of a dish, you'll want to flavour it with herbs, spices, aromatics, or other flavourful ingredients, and/or a delicious marinade or glaze.

Once you get comfortable with tofu and start experimenting, you'll realize that the possibilities are endless. However, if you're new to tofu preparation, where should you start?

These are two simple methods that are great to try out as you get started on your tofu journey:
Method 1: Frying and Glazing Tofu
3 simple steps:
Prepare a simple glaze by combining 2 tbsp maple syrup and 2 tbsp tamari, and prepare 1 block of extra-firm tofu by cutting it into 1- inch cubes
Heat a no- or low-stick sauté pan over medium heat, and once hot, add a dash of olive oil. Add tofu cubes immediately, flipping and turning occasionally until the cubes are crispy on all sides.
Once the tofu cubes are nicely browned, turn the heat down to medium-low and add the simple glaze, tossing until the tofu is well covered. Watch carefully so it doesn't burn, reducing the heat if necessary. Let everything cook, stirring occasionally, until all the glaze has been absorbed and the tofu is nicely coated. Remove from heat once the tofu is looking nice and crispy.
Other flavourful glazes of equal parts liquid sweetener + liquid salt can be used with this method, and the resulting cubes are a tasty addition to salads, stir fries and grain bowls.
Watch how to fry and glaze tofu:
Method 2: Blending Tofu
Let's make a Silky Chocolate Pudding!
This recipe is a good example of how silken tofu can be used as a base for sweet or savoury dishes since it will take on the flavours of the ingredients you add to it.
Place the following ingredients in your blender:

1 container silken lite firm tofu (349 g) OR soft (dessert) regular tofu*
¼ cup unsweetened cocoa powder
5-6 dates, soaked for several hours
1-2 tbsp pure maple syrup, or more to taste (optional)
1 tsp pure vanilla

Blend until completely smooth and creamy. Place into dishes and chill to set. Serve with fresh berries or other fruit of choice. Can be used as a dip without chilling and setting.
*You can use either kind of tofu here, but the silken variety will give you an extra creamy texture.
Watch how to make a silky chocolate pudding:
---
Let us know how it goes
Have you tried these recipes and tips? How did it go? What's your favourite glaze to use with tofu? Are there other ways you love to cook tofu? What dishes do you enjoy making with tofu?

Don't forget to subscribe to get free weekly plant-based recipes right in your inbox! You can unsubscribe at any time.
More posts like this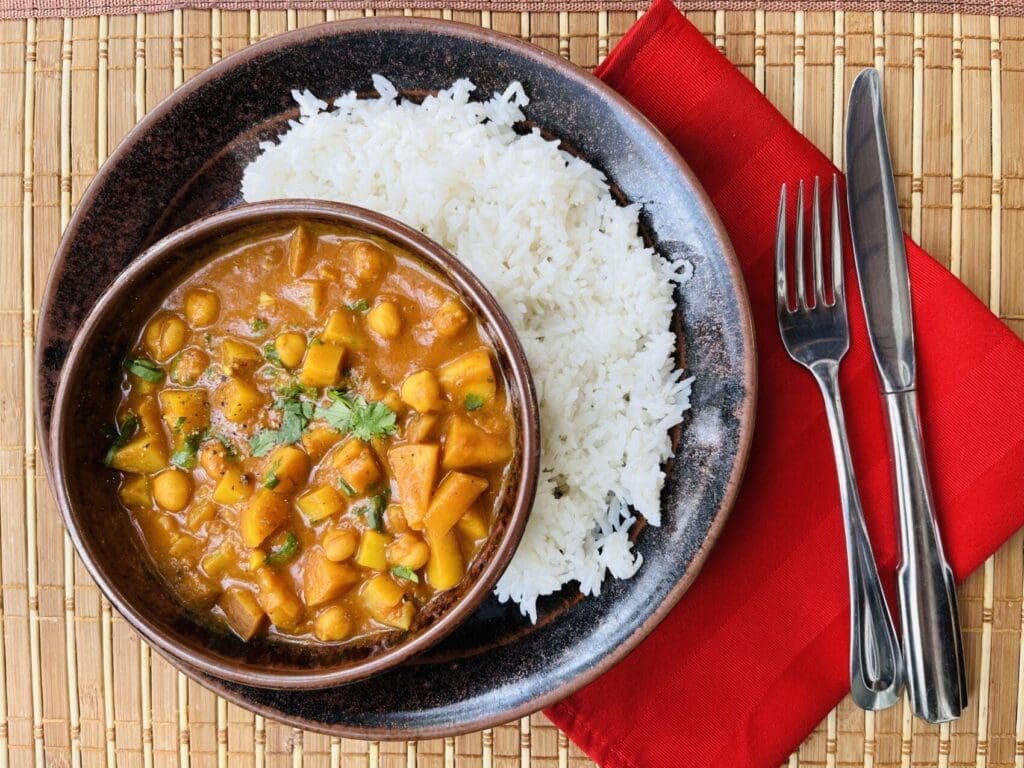 Win a $300 Vegan Supply gift card! @vancouverhumane ✨ Recipe making…